Digitizer Interface for Microsoft Excel for Paper Plan Takeoff
BidPoint XL is an Excel add-in program that digitizes measurements from paper blueprints directly into Microsoft Excel using a large format digitizer tablet. That makes takeoffs fast and easy. No need to flip-flop back and forth between Excel and a separate digitizing application. Simply click on a spreadsheet cell and electronically measure and draw items from paper plans in seconds. The digitized quantities and drawings are saved with the Excel cell and file. BidPoint XL is so user friendly that most estimators are up and running in less than fifteen minutes.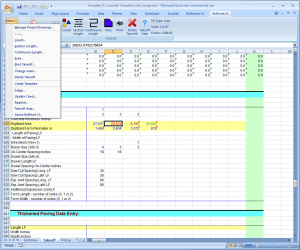 While working in Excel, edit, format and print the digitized drawings. Apply a variety of colors, line styles, count symbols and area fill patterns to the digitized drawings. Layer drawings to view multiple images on screen and generate a scaled, color-coded printout. You can even hear the takeoff by assigning unique sounds to each digitizing action. Sample estimating Excel workbooks for general contracting, concrete and many subtrades are included.
If you are working with paper plans, make it easier with BidPoint XL and a digitizer tablet.  Vertigraph bundles BidPoint XL with digitizers from GTCO/CalComp. Contact us today to see why BidPoint XL is the industry leader for digitizer tablet takeoff.
If you currently have a tablet with digitizer and Microsoft Excel version 97 or newer, download a working copy of BidPoint XL and test drive its ease of use. After downloading and installing, please view the BidPoint XL help file for instructions about installing and configuring the digitizer.


Other Products