Digitizer Interface for Microsoft Excel for Paper Plan Takeoff
BidPoint XL uses a digitizer tablet, which costs over $1,500, to measure items from paper blueprints.  It was a good program in years past when paper blueprints were distributed to the contractors.  Now, shipping paper plans is expensive and inefficient.  Currently most contractors receive PDF files.  If they want to print these, they do.  But for takeoff nowadays everybody is doing it on-screen.  I would prefer to promote the BidScreen XL software rather than BidPoint XL since digitizer tablets are quickly becoming obsolete.  Currently, there is only one manufacturer and they might not last.
Features
Here are some of the features of BidPoint XL construction estimate excel software:
Ability to delete selected objects
Advanced print features allow to rotate the image and choose the desired print scale. The print title block information can be saved automatically.
The excel estimating software can measure areas and perimeters of rectangles by just entering 3 points instead of 5 points
Can measure the area and circumference of circles by just entering points instead of tracing
You can assign digitizer buttons for arc, circle and rectangle measurements.
Can measure and draw arcs by entering a low and high point instead of tracing
Under Windows 2000, assign macros to the digitizer buttons in order to initiate measurements. This feature works only when using the GTCO Windows 2000 Wintab driver.
Assign a digitizer button in order to activate a popup menu that allows you to measure arcs, circles and rectangles; delete objects, close areas, access style settings, end lines, and stop the takeoff. The popup menu can be applied to pen stylus or a button on the cursor.
As you digitize, status messages are displayed
The number of points generated when tracing around curves is reduced.
Features a style library and the capability of sharing the featured styles across multiple users and various Vertigraph programs
User-definable keyboard shortcuts
You can easily annotate items on the takeoff screen
Negative line segments
Customizable report setup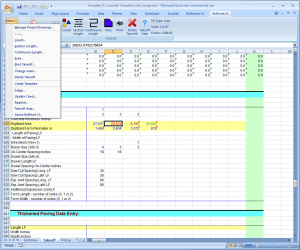 Take Advantage of Our Live Products Demonstrations
At Vertigraph, we provide live personal software product demos over the internet to address users' specific questions and needs. Schedule an on-line demon today to see how BidPoint XL works for you. The approximate time per demo is 15 minutes. If you have Microsoft Excel version 97 or newer, you can download and install a working copy of BidPoint XL and explore its features. Refer to the BidPoint XL help file for instructions on how to install and configure the digitizer
Get your hands on BidPoint XL building estimation excel software and take your construction to new heights!


Other Products