BidScreen XL, an Excel add-in, quantity takeoff application, gives you the power to takeoff your electronic plans directly in Microsoft Excel. BidScreen XL provides an outstanding audit trail while automating and speeding up the time consuming takeoff process.
Takeoffs are a snap, just click on a spreadsheet cell and measure and identify areas, lengths and counts from your digital drawing files.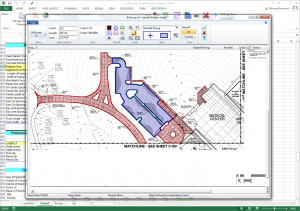 The measurements and color-coded takeoff drawings are saved with the Excel workbook and can be edited and printed. And, you can apply colors, count symbols, line styles and area fill patterns to your drawings.
Sample estimating Excel template files for general contractors, concrete, roofing, painting and other subtrades are also included.
* Measure on-screen from PDF, DWG, DXF, TIF and other file types.
* Works with PDF and DWG vector files; isolate layers and snap to the object to obtain exact measurements.
* Use with any Excel workbook; no exporting data to Excel; the takeoff is made directly in Excel.
* Work with the original drawing file; no file conversions required.
* Open multiple quantity takeoff files or multiple pages of a file with a single click.
* Takeoff volumes from cross-sections by simply measuring the cut and fill areas for each station.
* Accurately and easily measure cross sections that have different vertical and horizontal scales.
* Edit the takeoff measurement by adding, deleting and moving points.
* Short cut keys draw curves and circles.
* Round length measurements to a specified value.
* Drawing Manager feature clearly organizes, annotates and describes the drawings.
* Store info to the cloud by saving the files to any cloud drive.

BidScreen XL is simple and cleverly efficient. Now perform the entire quantity takeoff and estimate in one program, Microsoft Excel. Contact us today to see how BidScreen XL will work for you.
BidScreen XL VideoDownload SoftwareTutorial Video